Knitting Patterns and Kits by Andi Javori

Welcome to Javori Designs! I am Andi Javori, a professional knitwear designer and teacher who has been designing knitwear for over 20 years. With my knitting patterns and kits you will be able to create beautiful and unique knitted accessories and jewelry to wear and enjoy!

Sit back… relax… and stroll through the assortment of knitting patterns and kits, and you will find prolific designs unseen anywhere else. If you are looking for an already completed design, then check out the Gift Shop for a design project handcrafted by me!




Jacqeline Necklace Kit



NOW Available
Paloma Necklace and Bracelet Kits


ON SALE
West End Purse Kit

Our office will be closed from May 28 - June 3. Any orders placed during this time will ship out on June 4th.
Javori Designs will be exhibiting at the TNNA Summer 2015 Trade Show this weekend May 30 - June 1
in Columbus, Ohio. We are at booths 533 & 535, showing samples of all our kit & pattern lines,
as well as soon to be released products. Stop by for our trade show only specials. See you there!


Javori Designs on Television!
Andi's Paloma Necklace and Bracelet designs will be the featured knitting projects
on an upcoming episode of "Knit and Crochet Now!"
Look for it on your local PBS Channel.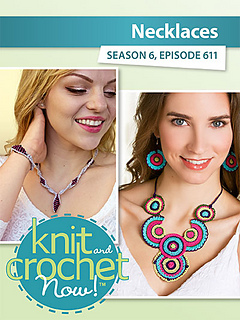 The
Paloma Necklace and Bracelet
kits are available for purchase
exclusively at Annie's Craft Store.